"What is your favorite recording?" is the question that both Jim Weiss and his wife Randy are most often asked.
"Admittedly, we both flounder a bit when we hear this question; once each recording becomes published, it becomes a part of our hearts," Jim says. "We can look at each of the 70 + of our titles and remember how difficult or smoothly the recording process went; what was happening in our personal lives at the time, etc. And, our motto is that nothing ever gets published unless we love the final result. So an honest answer is, 'We love all of them.'"
That said, when asked this question, both Jim and Randy can come up with an answer that "feels" right at the time. Here, they both discuss a few favorites. Click on each title to see more about the product or to purchase it.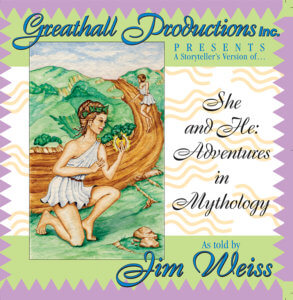 Jim:
I am very proud of She and He: Adventures in Mythology because it contains male and female protagonists and all the characters in it are treated respectfully. It was one of our earlier recordings but remains dear to my heart. Psyche and Cupid is the original basis for Beauty and the Beast; Pygmalion and Galatea is "My Fair Lady" in ancient Greece. Echo and Narcissus and Baucis and Philemon are favorite character-based stories, the first an ironic teaching tale, and the second among literature's sweetest stories. But the centerpiece is "Atalanta and the Golden Apples," one of the most requested stories in my live performances. It features a thoroughly likable hero; an original song; a laugh-out-loud comic turn by the wise centaur, Chiron; and an exciting race featuring an intelligent, self-motivated princess who happens to be the world's fastest runner. She and He: Adventures in Mythology contains lots of enormous laughs and thoughtful, relevant lessons.
I decided to gather a few of my favorite stories for an eclectic recording,
and the result was Rip Van Winkle and Gulliver's Travels. It consists of
four, widely varied stories: Jonathan Swift's witty tale of Lemuel Gulliver's
adventures among the tiny Lilliputians; Washington Irving's story of
kindhearted Rip Van Winkle, who sleeps through twenty years of colonial
and post-Revolutionary American history; "Fool's Gold," a classic folk tale
of generosity and honesty vs. greed, with one of the all-time greatest
endings; and a short, wildly funny, rap version of Rip Van Winkle called
"Rip's Rap," complete with voices and sound effects, which makes a point about never drinking an unidentifiable substance. I had tremendous fun writing and you can be sure that Rip Van Winkle and Gulliver's Travels contains the one and only Jim Weiss rap.
The Jungle Book may be the all-time major example of "the dreaded
Hollywood version." Multiple movie versions of this Rudyard Kipling classic bear little resemblance to the original masterpiece. Many people who are familiar with the story only via these movies have missed one of literature's greatest treats. I love these characters and all the thrilling action, so I created one of my own favorite performances here, conveying the true essence of Kipling's masterpiece. By the way, Lord Baden-Powell, who started the Boy Scouts organization, was such a fan of The Jungle Book that he organized the different scout achievement levels based on characters from the book, including the pack leader, Akela, taken from the leader of a wolf pack in the original stories. Randy and I were so delighted and validated when the American Library Association wrote a review The Jungle Book, beginning with "A great way to lead children to non-Disney Kipling."
Randy:
The book Good Luck Duck was a favorite of mine when I was a little girl. It has long since been out of print and I was delighted beyond words when
Jim recorded it. The story values are heavenly and the content of the book is hilarious. Jim's voicework and his presentation of the characters are heartwarming. This is true family entertainment at its best. In my honest opinion, anyone who loves our recordings needs Good Luck Duck.
The Count of Monte Cristo is a book that I never read. How I missed this classic in my education, I honestly don't know. This recording is wonderful for older children but as in my case, equally wonderful for adults who never quite got to reading it and kind of feel that they should. I felt like I
received my "literary decoder ring" when I listened to Jim's telling of this magnificent story. There is a reason that The Count of Monte Cristo is a classic.
The story of The Prince and The Pauper provides a multitude of essential lessons intertwined in an action-filled, emotionally satisfying story. My grandfather gifted me this book when I was in the hospital recovering from foot surgery. I was 8 years old and I couldn't put it down. I was mesmerized by the idea of two youngsters who looked like twins but were born of different parents and backgrounds, meet and trade places. The young pauper finds that being a prince is not as easy and luxurious as he thought and the prince who feels confined in the palace, finds the freedom in the "real world" not as carefree as he expected. "The grass is always greener on the other side" is exemplified in this work of art by Mark Twain. Also, The Prince and the Pauper can be part of a fabulous "Mark Twain Unit" when combined with some of his other books (Tom Sawyer, etc.) to teach the diversity and glory of this beloved American writer.
Originally published on the Jim Weiss E-Magazine. To subscribe to this free, every-other-month newsletter, click here.