by Jennifer Earl
Like many families, choosing to homeschool was a parental choice made in response to an evolving world. We wanted to raise our daughter with a "world view" not blurred by consumerism and pop culture, and for us that meant living "off the grid" while traveling around the world by sailboat. Sound extreme? Well, not to us, because the other part of our makeup is that we are sailors, blue-water sailors that love to cross oceans. Before having our daughter my husband and I took a two-year sabbatical to circumnavigate the globe by sail aboard our 41-foot sailboat. It was an incredible journey that culminated with a remarkable sense of achievement and personal growth. That adventurous lifestyle taught us not only how much we prioritized quality time together, but how soul-enriching it was to expand our horizons and spend time living outside of traditional societal norms. We welcomed our daughter into the world and decisions about raising her were directed by these learned priorities: sailing as a family was our vision, and homeschooling provided the needed flexibility to round out her education.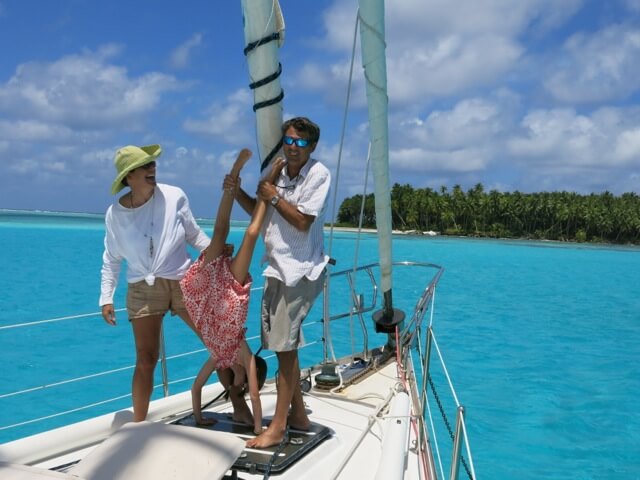 Our first sailing adventure ended in 2006 when we sailed back under the Golden Gate Bridge and resumed life with mainstream jobs and responsibilities. Fast forward six years, and once again we threw off the dock lines and set sail from San Francisco Bay westward across the Pacific Ocean. However this time was different: now we were a family of three and our focus was raising our then four-year-old daughter Sophia. In our wake were countless logistical gyrations and critical decisions to make this life happen, not the least of which was a decision about homeschooling. But she was four – how hard could it be? Our intention was to be out for ten years, and we confidently decided we would travel around the world via sailboat and homeschool until she was ready for high school. We had some familiarity with programs like Calvert, but we really wanted to find a program that let us have a bit more control over material choices and that did not require the internet on a daily basis. Back when Sophia was two years old we had heard about The Well-Trained Mind and after reading the first chapters, we were convinced it all made great sense. The TWTM classical education trivium jived with our philosophy, and the well-articulated message coupled with the comprehensive material resources were world-class.
So there we were, ready to hit "go" on this amazing education we had planned for our daughter…. The first year was mostly advanced kindergarten: we used The Ordinary Parent's Guide to Teaching Reading daily and did lots of art and exploration of our world with onboard encyclopedias. Sophia was off to the races with reading within six months and, without the distractions of a steady group of peers and a battle for screen time, her world view expanded through the pages she devoured. This, coupled with the diversity of places and people on our journey, became the foundation for her learning. We have now been out sailing for eight years, and as the years and grades have gone by, Sophia's love for
reading has made all her school work that much easier, interesting and intriguing.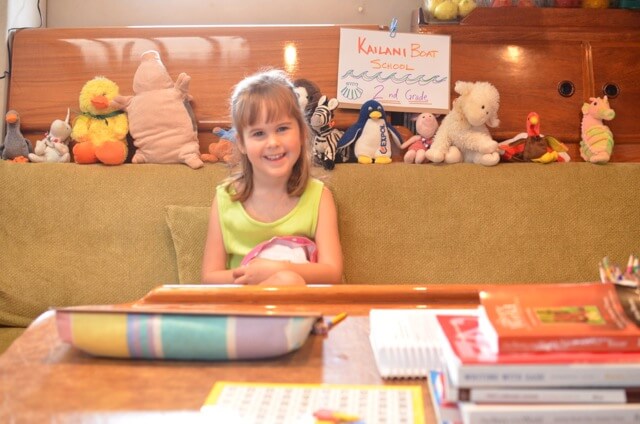 And just what is it like to homeschool while sailing about the globe? First of all, our sailboat is our home. It is our mode of transport from one place to the next, and our base of operations when we make landfall. We spend most of our time anchored in incredible island nations, exotic locales and really remote foreign countries that are uniquely accessible by boat. We also cross oceans spending as many as 30 days at sea "on passage" with nothing but the wind in our sails, the big blue all around, and only
we three aboard. When we "visit" a country we live on our boat while anchored in a bay often, but not always, near civilization. We integrate with the local population in a manner that is unlike other types of travel: we stay for months not weeks; we spend most of our time where tourists don't; we shop at the same markets they do; and we are often invited to eat and worship with them. We walk into villages and find ourselves spending an afternoon sipping tea and sharing stories with locals who have
invited us into their home. We visit their schools and spend time with families, watching as kids' natural curiosity and laughter become the shared language that bridges cultural differences.
Within this dynamic landscape called home, we school. A nearly unimaginable amount of planning goes into each academic year to insure that the right materials are on board. We buy an entire year's curricula when back in the US to visit family and then haul it all back across the globe to where we last left the boat. Textbooks are one thing, but what about all of those long and fabulous reading lists, ancillary history topics, research assignments, science experiments, and art projects laid out in TWTM? All materials are identified in advance, lists are made, shopping happens, and then everything is carefully organized and brought back with us as checked bags. Packing up an entire year's worth of materials not only takes up 70 pounds of our precious luggage allowance, but its annual transport has accounted for some of our more awkward interrogations by customs officers (one should think twice before bringing a formaldehyde preserved creature across international borders….). We rarely have access to libraries or reliable internet so we must plan to make it all happen through resources aboard the boat. Almost all of our physical books on board are dedicated to our vast homeschooling reference library (encyclopedias, biographies, atlases, maps, etc.) and a hard drive of National Geographic archives has been a fascinating tool for history, science and cultural research projects.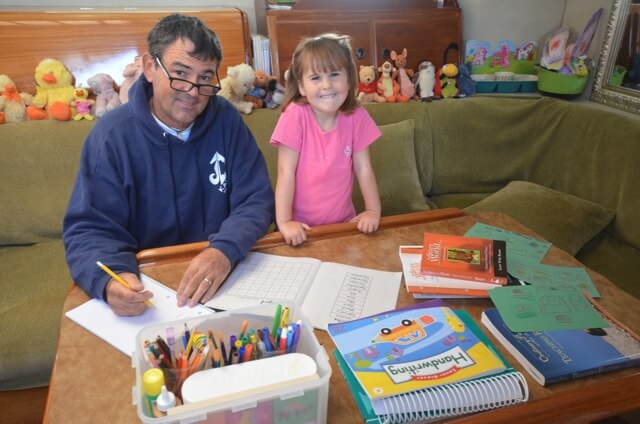 A unique aspect to our homeschooling is that there is no backdrop of a "scheduled" life into which we need to fit our schooling time. Maybe it goes without saying, but our days do not mirror anything that one experiences in the mainstream: there is no "Monday through Friday" and there are no jobs or appointments to interfere. The framework in which most families structure their weekly and daily activities does not exist for us. More often than not our daily life is instead governed by weather, sunsets, tides and currents, while on a macro scale we are seasonally forced to be in places on the globe safe from tropical storms. Localized dramatic storms may mean we have to up anchor and move and sometimes an anchorage is too rolly to do school. And then, of course, we explore, have adventures, meet new people and see the local sights. Making time to balance it all means that some months we may have only three days of school, while in others there may be 25 days. Because of this we have school year round, and rarely are we on breaks or holidays at the same time as others.
So what does a school year look like? Once I establish the curriculum for a grade, I review the course materials for each subject and determine how many days it will take to complete the coursework in the school year. There are typically 10-12 subjects in a year [for example this seventh grade year includes Algebra, Grammar, Writing, Spelling, History, Chemistry, Latin, Spanish, Typing, Art, Music and Logic]. On any given school day we have 5 or 6 subjects. Initially it was a bit challenging to create a workable weekly and daily schedule that allowed us to steadily progress despite the dynamic nature of our lifestyle. After some time we developed an approach that has worked well for the last six years. I set up a five-day school week calendar, assigning subjects to Days 1 through 5. This operates much like a conventional "Monday through Friday" approach, except in our case we are not wed to a specific calendar day, nor to having school five days in a row. When it comes to it we may have Day 1 of school, a break for a few days, then Days 2-4, then another break and then back to Day 5 after which we start all over with Day 1. Or we may do school for ten days in a row. It all depends on what is going on in our world at the time. We keep a written "teacher's log" that allows us to quickly make the daily subject assignments, and allows student and teachers to know what to expect. There really is not much rhythm to how many days per week we actually do school, but the school year is premised on 15 days a month and 180 days per year.
In the beginning years, school was very teacher-student intensive, and each day took about 3 to 4 hours to complete. As the years have progressed, self study with a little direction from us has become the norm, and days take about 5-7 hours to complete. My husband and I trade off teaching when needed, and we have found sticking closely to the "instructor script" provided in the materials helps us to switch roles day to day relatively seamlessly. We also make use of supplemental teaching in whatever form makes sense: foreign language instructional lessons and software; history and science documentaries; music lessons courtesy of "guest lecturers" (aka conscription of visiting talented family and friends); and even enrollment of Sophia in first grade for ten weeks while we were in New Zealand. Additionally, when we stay still long enough, Sophia gets involved in extracurricular activities and sports that fill an ever-growing need to have time on her own with friends.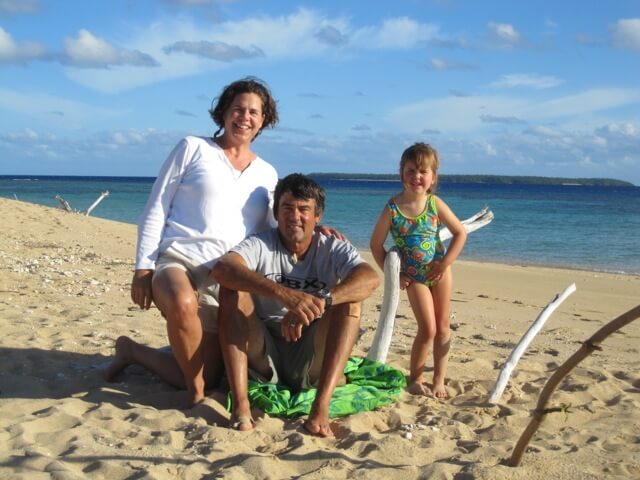 We are eight years into our journey, still making choices to make this dream our reality. We have sailed over 30,000 miles from San Francisco across the Pacific Ocean, up through Southeast Asia, across the Indian Ocean, around the bottom of Africa and across the Atlantic Ocean. Along the way we have visited 19 countries and have been inspired, challenged, terrified, enriched, and most of all, fulfilled. This family journey has been a truly remarkable platform for Sophia's education. But it is our choice of TWTM for homeschooling that has allowed us to exceed our expectations for educating our daughter. As we look back on the last eight years, we only have words of admiration and respect for Susan Wise Bauer and TWTM team for creating superb materials. From those first days spent enjoying history unfold in The Story of the World volumes, to watching Sophia's writing skills blossom under the guidance of the Writing with Skill and The Creative Writer series, we have experienced first hand how commitment to the process is both enriching and rewarding. The Well-Trained Mind has been more than just a roadmap for the classical education curriculum — for our family, it has provided inspiration and confidence to strike out on our own and be the teachers in Sophia's world.
To read more about the Earls' adventures, visit their website at www.LaughterJourney.com.