Imagine trying to make spaghetti sauce if you didn't know how to chop an onion, brown ground beef, or measure spices. Even with a recipe, you would find yourself puzzling over every single step: "Do I need to take the skin off the onion first? How high should the heat be when I cook the meat? What's the difference between a teaspoon and a tablespoon?"
This is how math feels for kids who never master the basic facts: painstaking and hard. Whether they're learning how to divide decimals, subtract fractions, or multiply polynomials, they spend so much of their working memory on simple calculations that they have no brain space left for understanding new concepts.
That's why it's so important that children master the math facts during the elementary years. Once they've learned these basic number relationships, they're much better prepared to tackle challenging topics in their middle school and high school math courses. 
What are the math facts?
The math facts are the sums and products of the numbers from 1 to 9, as well as the related subtraction and division problems:
Addition from 1 + 1 to 9 + 9

Subtraction from 1 – 1 to 18 – 9

Multiplication from 1 × 1 to 9 × 9

Division from 1 ÷ 1 to 81 ÷ 9
As a rough guide, aim for your children to learn the addition facts in 1st grade, subtraction facts in 2nd grade, multiplication facts in 3rd grade, and division facts in 4th grade. However, each operation builds on each other. So, if you have a third-grader who's shaky on the addition facts, start there before moving on to subtraction or multiplication.
3 steps to mastering the math facts
Seeing how many math facts need to be learned can feel overwhelming, both for kids and parents. But don't panic—and don't start making piles of flash cards for your child to memorize! When children rely solely on rote memorization, the math facts often go straight into their short-term memories and then straight out again.
Instead of memorizing each fact individually, it's much easier for children to learn simple mental strategies that they can apply to groups of math facts. For example, take the ×4 multiplication facts. To find any of the ×4 facts, you can simply double the matching ×2 fact. So, to find 8 × 4, double 8 × 2. Since 8 × 2 = 16, 8 × 4 is double 16: 32.
With this one easy strategy, a child can quickly master all of the ×4 facts– one-ninth of the entire multiplication table! Similar strategies exist for all of the math facts, and they make learning the facts a much more manageable task.
Of course, just explaining these strategies doesn't mean that kids will be able to apply them. But with this simple, 3-step process, you can help your children master each mental strategy and learn the math facts for good. 
Step 1: Teach your child the mental strategy with hands-on manipulatives and visuals.
Use hands-on manipulatives and visuals to help your child understand both how the mental strategy works and why it works. Manipulatives don't have to be complicated; Legos, blocks, and pennies all work well.
For example, you could use any type of small counters to teach your child to find the ×4 facts by doubling the ×2 facts. (Your child should already know the ×2 facts before using this strategy.)
Start with what your child already knows: create 2 rows of 8 counters each and ask your child to tell how many counters there are. (16)

"2 × 8 is 2 groups of 8. 2 × 8 is 16."
Add 2 more rows of 8, for a total of 4 rows. Explain that there are now 4 groups of 8 counters, or 4 × 8. Point out that there are now 2 groups of 16, so you can find the total number of counters by doubling 16.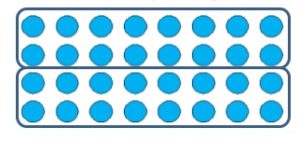 "4 × 8 means 4 groups of 8: twice as much as 2 × 8. So, to find 4 × 8,
you can just double 16. 16 + 16 = 32, so 4 × 8 equals 32."
Step 2: Practice applying the mental strategy with games and worksheets. 
After your child understands a particular strategy, have her practice using it. Most kids love games, and they provide a lot of math fact practice in a short amount of time. Worksheets aren't quite as fun, but they provide important written practice and prepare kids to use the facts in written math assignments.
Step 3: Mix new facts with already-learned facts and keep practicing until they're automatic.
Once your child can easily use the new strategy, combine the newly-learned facts with facts that your child has already learned. Have him continue reviewing, and remind him to keep the mental strategy in mind. With practice, your child will no longer consciously use the mental strategy but instead "just know" the answers. The math facts will become automatic, and your child will be able to use them to solve higher-level problems with confidence.