Sale!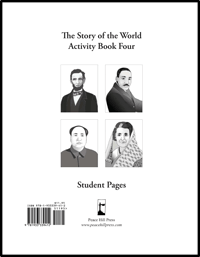 Free Product Support
Purchase direct from the Well-Trained Mind Press and get Free Product Support!
The Story of the World Vol. 4: The Modern Age, Student Pages
---
Product Description
NOTE: This is the original edition of the Story of the World 4 Student Pages. Because of this, the physical loose-leaf set is considered an outlet product and deeply discounted. All sales of the Loose-leaf Packet are final.
This is an extra set of consumable Student Pages from The Story of the World Vol. 4: The Modern Age, Activity Book.
The Activity Book already contains one set of Student Pages. If you need additional Student Pages for use in your immediate family, our copyright allows you to make copies from the Activity Book. But many parents find it easier to skip the photocopier and simply purchase this additional set of Volume 4 Student Pages instead.
The Student Pages are the removable pages in the back of your Activity Book. These are given to the student to complete for each chapter of study.
Contents
Maps
Puzzles
Games
Timeline figures
Outline pages
Not Included
Coloring Pages
Review cards
Instructions (included in the Activity Book)
Answers (included in the Activity Book)
The Activity Books for Volumes 1-3 contain review cards and coloring pages. Volume 4 replaces coloring pages and review cards with timeline figures and outline pages designed for slightly older students. If you think your student might want to finish their collection of coloring pages that span history, you can buy our supplemental pack of Coloring Pages for Volume 4 and color on!
The instructions for the parent or teacher are not included in these Student Pages. Those instructions (and a lot more!) are found in the first section of the Activity Book. 
Available Formats
A shrink-wrapped packet of loose-leaf papers, three-hole punched and ready for any standard three-ring binder
Downloadable PDF -delivered immediately! …You can reprint them again, and again, and again… (make even more paper versions of the Crystal Palace.

)

 
Copyright Information: When you buy a physical (paper or CD) or digital (PDF, e-book or MP3) product, you acquire the right to reproduce the product as often as you want for use within your own family. You may not reproduce it either for resale or to give away to others. Making copies, either for resale or to give away, is a violation of United States law. According to the United States Copyright Office, "Copyright infringement occurs when a copyrighted work is reproduced, distributed, performed, publicly displayed, or made into a derivative work without the permission of the copyright owner." For further information, see http://www.copyright.gov/help/faq/faq-definitions.html.
Share your thoughts!
Let us know what you think...