Now available from Well-Trained Mind Press!
Kindergarten Math with Confidence
Instructor Guide and Workbook by Kate Snow
Math gets a bad reputation. Learning math shouldn't be a struggle. Math with Confidence makes math fun and engaging while covering all the concepts a kindergartner needs to master.
Kate Snow spent years looking for a math curriculum that met students where they are, was age-appropriate, fun, accessible, and easy-to-use; and didn't require expensive manipulative sets. When she couldn't find what she was looking for, she created her own. The result is an easy-to-use, clear, exciting curriculum that makes math enjoyable.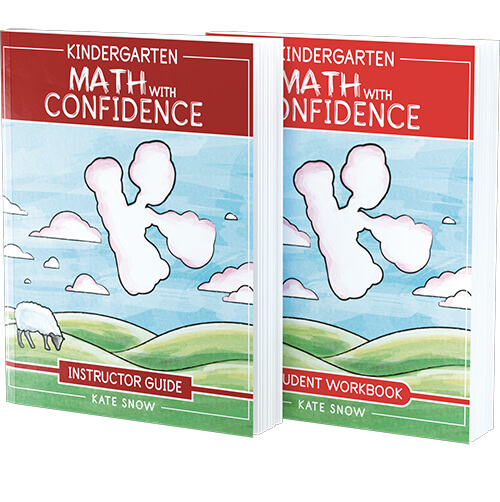 Math educator Kate Snow gives parents the tools they need to teach math with confidence. This scripted, open-and-go program leads parents and teachers step-by-step through teaching all the concepts a kindergartner needs to master: counting to 100, writing numbers, beginning addition and subtraction, shapes and patterns, coins, time, and measurement. Short, lively lessons will hold a child's attention by incorporating movement, games, and everyday household objects. Simple, colorful worksheets prepare kindergartners for pencil-and-paperwork that they'll encounter in first grade. Snow demystifies math by including recommendations for wonderful math picture books to enjoy together, plus specific ways to help children apply math to real life throughout the week.   
     Beyond just telling parents and teachers what to do, Kindergarten Math With Confidence also helps them understand why the lessons are designed the way they are, giving them the knowledge and confidence to help their children learn. 
    Using Kindergarten Math With Confidence will allow educators to build a strong math foundation for their children.
Age Range: 5 to 6
Grade: Kindergarten
Instructor Guide Features:
Scripted lessons to guide parents each step of the way

Clear goals at the start of each lesson to tell you exactly what you're trying to accomplish

Explanatory notes teach you more deeply how children learn math, equipping you for developmentally-appropriate teaching

Checkpoints at the end of each unit give specific guidance on whether to do more review or move on

Weekly suggestions for delightful math picture books 

Suggestions for incorporating what the child is learning into her daily activities
Student Workbook Features:
Exercises that build fine motor skills without overwhelming small hands

Practice in how to write all numerals from 0 through 9

Colorful illustrations

Fun practice pages to steadily reinforce each day's lessons

All answers provided in the Instructor Text for easy checking